The Magic of Storytelling
Written by Julie Bisnath, BSW RSW
Oral stories are powerful things—they can teach, entertain, evoke emotion, elicit memories, develop imagination, provoke deeper thinking, and prompt reflection.   Most importantly though, they bring us together and keep us connected.  Stories transcend time and space, have the power to evolve, and are free to give and receive.  Pretty impressive if you ask me.
Storytelling is also very natural—we do it all the time without even thinking about it—when we recount an incident or event, when we reminisce, when we tell a joke, and when we use examples to teach or reinforce a moral or value.  What's more, is that oral storytelling—many stories existed well before the printed word—with children is universal.  And for good reason!  Oral stories are hugely important to a child's cognitive and emotional development.
"Telling and listening to stories provides a bridge between the oral language skills of early childhood and the more formal language of print. With the ability to tell stories develops the ability to talk about things outside the here and now, to understand how we use language to express cause and effect and to talk about feelings and motivation."
Did you know that by the time a child is 2 ½ years old they are usually familiar with the basic structure of storytelling?  They know how to sequence basic events, understand the purpose of place and time, and can organize characters.  Amazing! But why—and to what end? Telling stories helps children solve problems and work out concerns.  Just as we might see them acting out a worry with dramatic play, children will tell stories (not necessarily to others) to help make meaning of an event or incident.  Storytelling also plays a role in how children view and understand themselves within the context of their family, and their community.
We know that children express themselves in many ways.  When we support the development and expression of communication in all of its forms, we are telling children that we see them as capable and competent.
What stories are being told here? Who are the storytellers and who are the story-listeners? Look at the connections and togetherness created during these moments.
So, what can we do to encourage storytelling in young children?
Have lots of conversations using rich vocabulary and a variety of concepts

Introduce and expose children to a wide variety of story mediums—written, oral, theatrical, etc. and story genres.

Encourage storytelling and story-listening all throughout the day—mealtime, bath time, naptime, in the car, out for a walk…have children narrate stories about their play and about their art. If you can, transcribe their stories or take a video.

Tell them stories about themselves, children love to be the central character in their own story!

Practice re-telling a familiar story together—based on a real event or a popular tale.

Use the tools of rhyme and repetition—children love hearing the same story over, and over, and over…!

Ask open-ended questions: Who are the people in the story? What happens next?

Model storytelling using various props. A felt board and felt shapes (take a look at Frosty Fun our new Winter Mini Felt Kit!), simple masks, a story apron, story stones or discs (check out our Wooden Wonder Collections!), all add to the storytelling and story-listening experience. 

Play with puppets—puppets no matter how simple, can provide a "third voice" (separate from the narrator and audience) adding to the dramatic interest. Puppets often have the freedom to say and do things that we might not, making them excellent teaching tools.  Simple puppets might be as easy as using your bare hands.  Other puppets might be made out of paper bags, paper and popsicle sticks, paper plates, photos, socks, fabric, etc.  These can be made by an adult or child.  More elaborate puppets can be purchased commercially.  For a unique and beautiful addition to your storytelling tools consider one of CCPRN's handmade story puppets (Coming Soon!)—crafted to include a puppet pocket and puppet accessories, these pieces are sure to inspire.

Don't forget to think about your tone of voice, volume, body language, and gestures. Using these effectively is what makes the story come alive.

Invite the children to enjoy a story table, story basket, or story sensory bin: Using the script from a familiar picture book, children manipulate the materials to act out and re-tell their own version of the story.

Try something new: cut and tell stories are fun and engaging! This one is simple yet captivating: http://drjeanandfriends.blogspot.com/2017/01/cut-and-tell-stories.html

Introduce reflection with occasional comments: "Hmm, I wonder how that makes him feel?", "I was thinking about that story you told earlier…".
Most importantly, listen attentively and participate actively when a child tells you a story (even if you've heard it 50 times before!). Enjoy the beauty and magic of the moment.
Hello Winter!
Written by Julie Bisnath, BSW, RSW
(Originally posted Dec. 4 2019)
Well, it's no surprise, we knew it would happen sooner or later—winter is well on its way. There's a chill in the air, frost on the car, and snow on the lawn. It's that time of year—time for snowsuits and hats and mitts and boots. Whether you are helping to dress one or more children, it can be exhausting. Here are a few reminders and ideas to help ease you and your children into the season.
#1
Know what to expect from a developmental perspective. Expectations that are too high will lead to frustration for you and the children. http://www.kamloopschildrenstherapy.org/dressing
#2
Teach skills that are age-appropriate and set the children up for success. Try different techniques to find what works best. Is the child having a hard time getting on her coat? Try the flip trick (see #8 below), use a chair (place the open coat against the back and have the child sit to put her arms in), or try hanging the coat off of her head (from the hood) to provide a bit more stability.
Keep in mind that we all have different learning styles. Some children will learn best with a demonstration and visual prompts (having the clothes laid out in order, or having a poster listing the tasks (see #6 below). Others will need verbal prompting. "Sit down. Wiggle your legs into your snow pants. Ok, now stand up. Put your arms through the straps. Great! Now pull up the zipper!" Other children will need the physical prompts of the adult physically assisting. Try placing your hand over the child's hand to teach or cue them. This could be you placing your hand over the child's hand to pick up their hat to prompt them to put it on their head. Many children will benefit from more than one type of prompting.
Try chaining to teach a skill. Forward chaining works by breaking a task down into small steps and then teaching each specific step within the sequence by itself. The child masters one small step at a time and the adult provides assistance to complete the task. Putting on a coat for example, would start with teaching the first step of putting in one arm and eventually working your way up the chain to teach subsequent steps (using verbal/visual/physical prompts). Backward chaining teaches from the last step of the task rather than the first. The child is provided with adult assistance throughout the process until the last step. The child is then encouraged to complete the last step alone. For putting on a coat, the last step would be to pull the zipper up once it is started. The adult then works down the chain teaching (using verbal/visual/physical prompts) each previous step. Each method includes lots of positive reinforcement for the steps that the child completes independently.
#3
Provide opportunities for children to practice and learn new dressing/undressing skills.
Keep a bin of dress up clothes accessible to entice the children to dress and undress themselves with fun costumes and dress up props. Include items with zippers, buttons, Velcro, and snaps.
Create a mitten and glove bin, let the children practice putting on and taking off different types of mittens and gloves—perfect for odd and mismatched items!
Provide dolls and doll clothes.
Invest in a quiet page or book featuring zippers, buttons, snaps, etc. Lydia ([email protected]) makes a beautiful assortment of quiet pages.
Have older children help you dress the younger ones.
#4
Plan ahead. Have your bag packed and ready by the door.  Make sure that all of the necessary winter clothing and boots are close by.  Having items readily available will ensure that you aren't looking for things at the last minute. Have families label all of their child's winter clothes and boots.  This will help to avoid mix-ups between children in your care and even more importantly, potential mix-ups when you are out in the community enjoying playgroups and/or other events. There can easily be duplicate (or triplicate!) snowsuits, boots, etc. Having the items labelled will make things much easier.  It's also a good idea to help older children learn to recognize their name/label as their own. This is an important self-help skill for starting school.
Check out Oliver's Labels for awesome designs and a variety of products. Support CCPRN (Child Care Providers Resource Network receives 20% of all sales! Purchase Oliver's Labels through this fundraising link: www.oliverslabels.com/ccprn
#5
Allow plenty of time for getting ready. It is hard to learn and/or practice a new skill when you are feeling rushed or pressured to perform. Having extra time built in to your schedule, specifically for this purpose, is sure to help. Just as with any new skill. Time to practice is essential.
#6
Use visual cues such as sequencing cards with real photos of the children getting their winter clothes on and off or design your own. Search Pinterest for ideas or purchase a ready-made poster from teacherspayteachers.com. Following a consistent "order of operations" each and every time the children get dressed/undressed will help.
#7
Include a transition song to help remind the children and to prompt the order in which to get dressed.  Here is a simple example to the tune of "Head and Shoulders, Knees and Toes":
Snow pants, boots, coat and hat, coat and hat, coat and hat
Snow pants, boots, coat and hat, mittens go on last!
#8
Make it fun. Use distraction, humour, or a simple "game" to get the task done.
To keep the children on track it can be helpful to distract from the task by talking about what will happen next.  If you are leaving playgroup, heading home for lunch, talk about lunch. If you are getting dressed to play in the yard talk about something specific in the yard.  If you are going for a walk, talk about something you might do or someone you might see. Focus on something interesting to motivate getting ready.
#9
Model and describe what you want to see. Narrate your actions as you are helping to dress the children or are getting dressed yourself: "First I line up my boots, then I slip in one foot and then the other!"
#10
Offer lots of encouragement and specific praise regarding effort.
"Jody—I saw that you laid out your coat and flipped it on! Now you are ready to zip it up!"
"Sunil—you've got on your snow pants, boots, and coat….what's next?"
"Kayla—I see you've almost got that zipper up.  Zippers are tricky, keep trying! I'm here if you want help."
"I like how you are all sitting while I finish putting on my gloves."
#11
When possible, stick to a consistent routine for outings/outdoor play. Routines create stability of knowing "what's next". If every morning after snack you go out to play, the children will be more likely to get dressed willingly.   Build in the task of getting ready as part of the routine. Talk about it just as you would any other element of the day.
#12
For those times when you are running late and it's not possible to give the children the extra time they need, try to give them some choice or control over the situation. If you are interrupting engaged play offer to "pause" or "freeze" the play for later.
"It's time to get Jenny off the bus. We need to hit "pause". Should we tidy up the blocks or leave them out for later?"
"Today we are in a hurry! We need to be so fast!  Let's do it together. Should we sing the getting dressed song or do a countdown?"
"We have to be so fast today friends. I will help everyone get ready and get into the van.  When we're on our way you can listen to music or you can look at a book." Keep certain books, songs, or small toys only for use in the car.
#13
For children who consistently have a hard time getting dressed in winter wear consider whether a larger issue might be at play: Could it be sensory related? Are the boots too small? Is the child uncomfortable? Discuss concerns with the family and problem solve together.
#14
Finally, for toddlers who insist on getting undressed faster than you can get out the door, here are some tips from www.todaysparent.com/toddler/how-to-get-your-toddler-to-wear-winter-clothes/
Embrace the Wonders of Winter:
Experiencing winter with young children definitely brings out the best of this wonderland.  Bundle up and enjoy. Breathe in the cool crisp air. Teach your children to welcome winter and all of the season's bright possibilities. Explore together. Marvel at their wonder and curiosity. Delight in the sparkle of their eyes and admire those oh so fresh rosy red cheeks
Additional Resources:
Dressing for the Cold—learn how to dress properly for the cold so that you and your children stay warm and dry. https://www.aboutkidshealth.ca/Article?contentid=1940&language=English
Car Seat Safety— dressing to play outside is not the same as dressing to ride in a car seat.  For information on how winter snowsuits and bulky clothing prevent proper tightening and positioning of straps and buckles go to https://seatsforkids.ca/installing-and-using-your-car-seat or follow the SEATS for Kids Facebook page https://www.facebook.com/seatsforkidscanada/.
The M.A.T.C.H. Strategy—to support and encourage dressing independence. https://www.canchild.ca/en/resources/150-dressing-skills-and-the-jk-sk-student
Modify the task
Alter your expectations
Teaching strategies
Change the environment
Help by understanding

Ideas for Exploring Winter with Young Children:
Catch snowflakes—black mittens are best for looking at snowflake details
Build a snowman or a snow family! Give them various faces—happy, sad, surprised, and talk about feelings
"Skate" on frozen puddles
Make and follow footsteps or other tracks
Play at the park
Build a fort—use shovels, pails, dump trucks, etc.
Go for a walk and collect sticks/pinecones/rocks—use them to decorate the fort
Fill cookie cutters with snow to make "cookies"
Feed the birds
Shovel!
Spray the snow with coloured water (use easy to squeeze spray bottles)
Work together to roll a giant snowball
Clear a path in the yard for running
Go sledding or sliding (a mini hill where you can stand beside the hill to help as needed)
Make snow angels
Pack snow onto a tray and paint with water colours
Hide toys in the yard and search for them together—the smaller the toy the harder the challenge
Create an eye-spy list together before going out and take it with you on a walk—see how many items you can see (school bus, squirrel, red car, dog, etc.)
Hold an outdoor concert—give the children buckets, pots, spoons, bells, etc. as "instruments".
What about Art? A post for parents
Written by Julie Bisnath, BSW RSW
In recent years, professionals in the early learning community—both centre based and those in home child care, have been shifting their perspective when it comes to art.  You may have noticed that your child is coming home with little or no finished art.  Not to worry! The fact that they haven't brought home a beautifully cut and glued paper craft does not mean that they aren't being creative or that your home child care provider is not introducing them to art.  Indeed, the opposite is likely to be true.  All early learning professionals are being encouraged to provide young children with opportunities for process art—instead of, or in addition to, the more traditional product art.
"Process art" or "open-ended art" is art that focuses on the experience of doing rather than the finished product.  It allows children the freedom to explore various materials and mediums without the constraints of "producing".  Process art often does produce beautiful, interesting, and unique results but this is not its purpose. Children may or may not want to keep the end piece.  The successfulness of process art is measured in terms of the child's joy, wonder, and curiosity during the experience of doing—the process of creating.
"Product art", also known as "crafting", is art that focuses on the end product.  There is usually a specific set of instructions and if followed correctly, each person's end product should be relatively the same.
Process art teaches children to value the creative experience and to value experimentation.  It allows them opportunities to explore with their senses, and to experience materials and mediums as they relate to one another.  It provides inquiry based learning and the opportunity to use, manipulate, explore, and express with a variety of tools and techniques.  It teaches children that there is no right or wrong way to create art.  Process art is meant to be a calming and relaxing experience.  Children make decisions regarding how much, how little, where, when to stop, etc.  It teaches children that their art is their own.
Product art teaches important skills too.  Patterning, math, problem solving, planning, sequencing, reading, following instructions, working towards a goal, perseverance, and determination to name a few.  When we introduce and expose children to simple crafting (product art) we are setting the foundation for later skills and abilities used in everyday life: completing a recipe, putting together furniture, writing an essay, etc.…we are teaching children that these skills are important and take practice.  Learning to hone a particular craft also develops its own skill set and is valuable in and of itself—think of baking, quilting, knitting, woodworking, crocheting, jewelry making, food preserving, etc.—all types of product art and all requiring the skills listed above.  Finally, crafting often has strong generational and/or cultural roots.  Sharing these types of activities with children fosters a sense of belonging and values family traditions.
Beneficial when the intent is to teach a skill, introducing product art at child care does come with some challenges:
Younger children are easily frustrated: "I can't do it"
The child care provider is heavily involved, often the one completing the craft
It is a more stressful activity for everyone: "Am I doing it right?"
Children feel upset when their craft does not look exactly like the adult-made model
There is often more advanced preparation required by the caregiver to cut out parts, etc.
The creative process is restricted by the steps involved to make the craft
Depending on the caregiver, and the ages/stages of the children in the group, your home child care provider may or may not regularly incorporate product art into the programming. It might be scaled down with modified expectations or it might only be offered as an occasional activity.
Instead, your home child care provider is likely introducing your child to art materials and mediums such as painting (with fingers or brushes or random tools), collaging (papers and fabrics of various textures), art with materials found in nature (twigs, leaves, sand), art with recycled materials (bubble wrap, plastic forks, old toothbrushes), or art with mixed mediums (shaving cream, glue, paint, foil, sandpaper).  To support your child's learning be sure to dress your child in play clothes and pack an extra outfit or two—not having to worry about getting dirty will allow your child to fully experience the creative process: touching, mixing, poking, smelling, etc. 😉
So what's the real take home here? Product art definitely has some benefits but should not replace the wonderful opportunities provided by process art for children to create, experience, and express themselves freely—without the expectation to please others or re-create a final product.  There may or may not be an actual "take home" and that's ok!
Holiday Resource Kit Reveal
Written by Julie Bisnath, BSW RSW
This year has been like no other—a rollercoaster ride of emotions—and we know that the holidays will be just as challenging.  Our goal at CCPRN is to help you spread a little cheer and happiness.
With the holiday season right around the corner, CCPRN has been busy developing new Imagine.Create.Play Resource Kits designed to make your holidays merry and bright.
Take comfort in knowing that when you support CCPRN you are supporting a locally run business with more than 40 years of delivering quality services to home child care providers and parents across the province.
With your health and safety in mind we offer:
Convenient online shopping
Contactless pick up
Shipping across Ontario–and beyond!
Here's a look at some of our new products as well as a few seasonal favourites that we've restocked especially for you:
New! Personalized ICP Kit: The Gingerbread Friend
The Gingerbread Friend is an adapted version of the classic tale "The Gingerbread Man" by Jim Aylesworth.  Our unique version is customized upon order to include your name, the names of one or more children, and possibly pets.  Whether it's purchased as a gift or for use at home/child care, this kit provides many opportunities to celebrate and focus on the four foundations of How Does Learning Happen? —Belonging, Well-being, Engagement, and Expression.
Your kit includes the personalized story, wooden story pieces (customized with your photos!) for re-enacting the story and/or creating a new adventure, your choice of Gingerbread Friend—either felt or wooden, a foam gingerbread for decorating, a resource handout and, as a bonus—the board book version of "The Gingerbread Man" (while quantities last).
These wooden story pieces can be gently cleaned with a lightly saturated disinfecting wipe.  As with all small/hand crafted items, children must be supervised closely when playing with these sets.
Kit pricing starts (includes 5 story characters) at $20 for members and $25 for non-members.  Orders must be placed by December 4th at the latest.
New! Wooden Santa Ornaments
Original art transferred onto wood…a beautiful ornament to give as a gift or enjoy for yourself. Optional custom photo added to the other side.  These are $7 for members and $9 for non-members.
New! Wooden Wonder Collections
Perfect as a gift or to use at home or daycare.  Inspire play-based learning with our Wooden Wonder sets.  Use to re-enact a story, tell a new story, spark imaginative play, add to a sensory bin, build vocabulary, and more.  Add Velcro to use on a felt board or magnets for the fridge.  Buy two identical sets to play a game of Memory or to practice matching and counting.  Buy two different sets to play Tic Tac Toe (i.e. Dinosaurs vs Unicorns), or to create extended stories and dramatic play opportunities.
Once again, these wooden discs can be gently cleaned with a lightly saturated disinfecting wipe.  As with all small/hand crafted items, children must be supervised closely when playing with these sets. Also please keep in mind COVID-19 restrictions and best practices.
All images credited to: Jane at Digital Artsi  www.etsy.com/ca/shop/DigitalArtsi
Pricing starts at $10 per set for members (or 2/$16) and $15 per set for non-members (or 2/$24).
Christmas Tree & Gingerbread Person Playscapes
Back by popular demand! This kit includes either a large felt Christmas tree or large gingerbread person and a multitude of decorations. We have also included a set of numbers (1-5) and some circle time songs and rhymes, making this a very versatile kit!  Can be used with the very young as well as kindergarten age children.
Christmas Tree: $20 for members and $30 for non-members
Gingerbread Person: $25 for members and $35 for non-members
Christmas Paper Die Cut Collections
Invite your children's creative Christmas ideas to shine with paper die cuts of gingerbread houses, Christmas trees, candy canes, wreaths and bows, pine tree cards, Santa, reindeer, sleighs, and lots of mini accessories such as lights, stars, and candies. Enough materials for six children and comes with a list of ideas and suggestions for free play, games, puppets and more! $10 for members and $15 for non-members.
ICP Kit: The Mitten
An all-time favourite, this kit includes the board book "The Mitten" by Jan Brett and some pretty adorable wooden props including a sewn fleece mitten and "animals" to hide inside. The Mitten, a fanciful story based on a Ukrainian Folktale, is fun to read and perfect for re-enacting. $30 for members and $50 for non-members.
ICP Kit: The Snowy Day
This kit is based on the board book by Ezra Jack Keats. Winner of the 1963 Caldecott Medal, Keats' story of a young boy experiencing the year's first snowfall is a delight. The kit contains the book, 2 felt dolls with 4 different winter felt outfits (total), crochet snowflakes, snowballs, smaller felt people, and playdough mats. Great for free play, imaginative art, and circle time activities.  $41 for members and $61 for non-members.
ICP Kit: Snowballs
This kit is based on the board book by Lois Ehlert. This is a great book to read to a group, search for various items, and use as a springboard to design unique snowscapes. The kit contains the book, felt pieces to create your very own snowscape, play dough mats and open-ended play/art pieces. The hand-out has suggestions to help extend the play. $31 for members and $51 for non-members.
ICP Kit: Tap the Magic Tree
Tap the Magic Tree is an engaging and interactive book about the changing seasons and one special tree in particular. Tap, rub, jiggle, wiggle, and more to see what magic takes place. Perfect for all seasons with beautiful and brightly coloured artwork— children will love the magic and whimsy of this simple story. Your kit contains the hard cover book, 4 beautifully hand-painted wooden peg dolls each representing a season, and 4 coordinating, hand-stitched felt leaf pockets.  $37 for members and $57 for non-members.
You won't want to miss out on these unique products, sure to inspire curiosity and delight.
Head on over to our e-store to place your order today!
Spread joy, shop local, and support CCPRN ❤
Loose Parts Play
Written by Julie Bisnath, BSW RSW
Coined in the early 1970's by Simon Nicholson, the concept of "loose parts" came from his belief that the use of open-ended materials in childhood was strongly linked to creativity and critical thinking skills later in life.  It has since become a central component of many early learning environments and you can find lots of research and information pointing out that loose parts play does indeed develop skills across the entire continuum of development.
"Children need opportunities to be creative and inventive in their environment, manipulating and constructing their ideas through play. This result can be achieved through the introduction of unstructured play with loose parts."  https://www.cpha.ca/loose-parts-policy
Essentially, loose parts are any open-ended bits and pieces that have no intended purpose or specific play goals.   They can be moved around, added to, organized, taken apart, and used in many different ways allowing children to be creative, to explore, to investigate, and to learn from their own experiences manipulating the pieces.  Basically, any collection of natural or man-made materials can be thought of as "loose parts".
www.loosepartsplay.co.uk
Natural environments automatically provide a rich assortment of loose parts.  Think about the ocean side with water, sand, shells, and rocks or a lush forest bed filled with sticks, stones, leaves, dirt, pinecones, moss, and bits of bark.   The opportunities for play and learning are endless.  Children are invited and encouraged to use their imagination (the stick is a wand!), to develop analytical skills (which pinecones are sturdy enough to support a bit of weight?), and to test out their own ideas and hypotheses (small rocks float and big rocks sink).  They use the materials in new and inventive ways.  With no right or wrong way to play, children enjoy the freedom to explore and create without the typical constraints of store bought toys meant to do one or two specific things.  Loose parts play also fosters self-confidence and builds resilience as children are free to re-use the materials and experiment with a variety of ideas.   It gives them the opportunity to try and try again.
www.natureconnect.ca
"Loose parts pave the way for critical thinking. It allows the children to have their own ideas, to make things the way they decide, and to figure out for themselves how to make their idea work." http://www.thewideschool.com/the-theory-of-loose-parts .
No need to take a day trip though (although how wonderful to spend the day lakeside or in the woods!)—you can incorporate loose parts play right in your own backyard or indoor play space.
A simple way to get started is to use what you already have at home: blocks, large pompoms or cotton balls, large popsicle sticks, balls, and recycled paper towel rolls set out on the floor are perfect for toddlers.  Older preschoolers might enjoy a variety of smaller loose parts added in: clothes pins, gems, shells, rocks, pinecones, and spoons.  A sensory bin filled with miscellaneous materials sets out an intriguing invitation.   Another option is to try table top loose parts—have the children sit at the table each with their own tray or shallow box of loose parts to examine and explore.  This works well with a mixed age group as you can tailor the items specifically to each child, following their interests and abilities to manipulate the loose parts safely.  This set up is also helpful if you are trying to minimize having the children touch or share common items.   Perhaps you have kindergarten or school age children who would enjoy some gross motor, outdoor, loose parts play?  Scavenge your basement, the garage, or ask your local hardware store for discarded materials: old tires, broken bricks, bits of lumber, large industrial rolls (sturdy cardboard inside large bolts of plastic or fabric), recycled yogurt containers, milk crates, and rope make a good start.  Recycled materials (containers, cardboard boxes, plastic bottle caps, etc.) are free and also helpful when it comes to clean up—no need to wash or disinfect, when the children are done playing out into the bin they go.  Dollar shops and thrift stores are another great place to look for loose parts—think about wooden napkin rings, bits of hardware, craft supplies, bins, baskets, etc.  Know someone who likes to sew? Ask them to set aside the empty spools.  Friendly with a local merchant? Ask them to keep the inside plastic piece from the cash register paper rolls.  Going out for a walk? Bring along a bag to collect pinecones, rocks, sticks, leaves, etc.
https://www.pinterest.ca/pin/224265256432558622/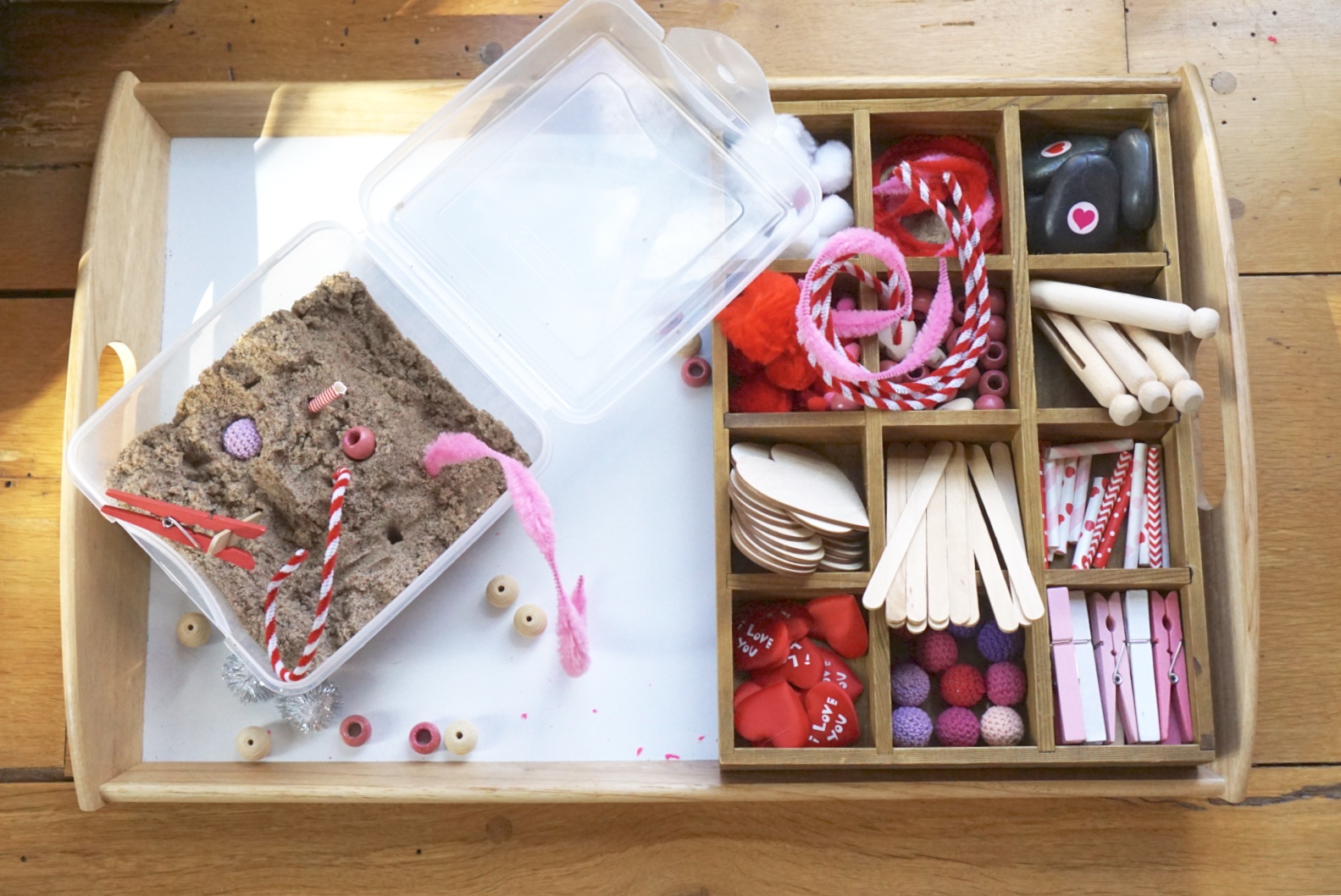 https://www.ureadyteddy.com/toddler-tinker-trays/
Just as there is no right or wrong way to play, there is no right or wrong way to offer or set out loose parts.  Through trial and error, you'll discover what works for your space, and what works for your children.  Follow their lead and enjoy the limitless potential of loose parts play.
Interested in buying a ready-made loose parts collection? We have 2 left for sale–head on over to the e-store for a closer look!
As always, children need to be closely supervised when playing with loose parts.  Be sure to select items that are age appropriate and suitable to the child's skills and abilities.
A sample list of bits and bobbles from: Loose Parts Play
Stones, rocks · Tree stumps · Logs · Pebbles · Gravel · Twigs · Sticks · Washers · Planks of wood · Coconut shells · Corks · Ping pong balls · Pegs · Bulldog clips · Duct tape · Straws · Marbles · Decorative stones · Spoons · Curtain rings · Paperclips · key rings · chains · tape measures · Pallets · Balls · Buckets · Baskets · Crates · Boxes · Rope · Tyres · Shells · Seeds & seed pods · Pine cones · Old CDs or DCDs · Ribbon, string tape wool, lace · Metal tops from bottles & Jars · Cardboard cylinders · Raffia · Cable reels · Feathers · Pasta · Costume jewellery · Pots · containers · Glass beads · Cable ties · Guttering & drainpipes · Garden trugs · Tarpaulin · Nuts & bolts · Bark & moss · Leaves · Coins · Old bike wheels · Small slices of logs · Empty food cans (not sharp) · Netting · Garden canes · Dried peas, beans, rice · Wood off cuts · Torches · Cameras · Dice · Gourds · keys
How Does Learning Happen?
For parents; written by Julie Bisnath, BSW RSW
Good question! Important too—how can we support learning if we're not exactly sure how it happens?  When does it happen?—what underlying conditions need to be met for successful learning to take place? The Ontario Ministry of Education must have been wondering about these exact questions.  In 2014, after extended consultation with community partners, system leaders, experts, professionals, and practitioners from the early years sector and through individual dialogue, local focus groups, and various provincial forums, How Does Learning Happen? Ontario's Pedagogy for the Early Years  was finally developed.  It is a professional learning resource guide that addresses and reflects upon that very question: How Does Learning Happen?
The very over-simplified answer? Learning happens within the context of supportive relationships. With kind, compassionate, and attuned adults, children feel calm and ready to learn.
"Evidence from diverse fields of study tells us that children grow in programs where adults are caring and responsive. Children succeed in programs that focus on active learning through exploration, play, and inquiry. Children thrive in programs where they and their families are valued as active participants and contributors."  www.edu.gov.on.ca/childcare/HowLearningHappens.pdf (pg. 4)
How Does Learning Happen?  helps educators and home child care providers focus on the interrelationships between the child, the family, and the educator, within the early years environment.  It defines strong and positive views of children, families, and educators; outlines four guiding foundations with goals for children and expectations for programs; and prompts questions for reflective practice.
"How Does Learning Happen? sets out goals for children and expectations for programs, organized around four foundations that are central to children's learning and growth. The goals for children provide a basis for thinking about and creating the kinds of environments and experiences that are meaningful for children. They are not meant to measure children's development but rather to guide what you do on a daily basis. The expectations for programs provide ideas and examples of what you can do to create environments, experiences, and interactions that support the goals for children in your home child care program." www.edu.gov.on.ca/childcare/HomeChildCareEn.pdf (pg. 5)
The Four Foundations:
"An Introduction to How Does Learning Happen? Ontario's Pedagogy for the Early Years–For Home Child Care Providers" outlines many unique opportunities for home child care providers to support how learning happens: (adapted slightly, from pages 7 & 8)
by being flexible in the daily routines and building on children's natural curiosity about the world around them;
by thinking about the home environment and neighbourhood as rich in possibilities for children to learn through exploration, play, and inquiry;
by enabling children of varied ages to develop strong relationships, learn together, and care about one another;
by connecting with the community and participating in its programs and accessing its resources (e.g., visiting and using local libraries, recreation centres, parks, and family support programs);
by having conversations with licensed home child care agency staff (or other home child care providers or other early years professionals—including the staff at CCPRN!) as co-learners in which you ask one another questions and together reflect on the goals for children and expectations for programs;
by building relationships in which children and families feel secure, and using personal experiences with the children to help the program evolve as the children grow and mature;
by engaging in self-reflection, and participating in professional learning coordinated by licensed home child care agencies, your municipality, or other early years programs in your community—such as CCPRN.
Questions for reflection:
How do you view the inter-relationships between your child, your family, and your home child care provider?
What are each person's unique strengths and/or experiences—yours, your child's, and your home child care provider's?
Do you feel valued as an active participant and contributor to your child's home child care program?
What are your child's interests?
How is your home child care provider already supporting the four foundations?
With regards to your child's learning, what do you want to know more about? What questions do you have?
As a parent what can you do to support your child's learning?
Here are some suggestions:
Learn and understand how the brain develops—how the experiences of early childhood shape the brain and lay the foundation for all future learning:
Watch the Think, Feel, Act video series to learn about Positive Relationships and Brain Development:
Take advantage of workshops and webinars offered through community agencies such as Child Care Providers Resource Network.
Ask your home child care provider! What do they need from you as a parent? What can you do to support them in their role? How can you work together to embrace the elements of How Does Learning Happen?
Attachment: Nurturing the Connection
Written by Julie Bisnath, BSW RSW
It's 3am and the baby's crying…again.  Your toddler is having a massive meltdown.  Your preschooler is hurt and is panicked by the sight of her own blood.  Your older child worries.  A lot.  At midnight, your distraught teenager comes to tell you that they are in crisis.  Parenting is exhausting–emotionally and physically draining, there's no question about it.  Yet we persevere. We push through. We figure out how to give more when we once thought there was nothing left to give.   This is the work of parenthood and of caregiving– caring for and meeting the needs of our children. Responding to those needs, especially in times of distress, in a kind, caring, and swift manner, builds and maintains what experts call a secure attachment.
Attachment can essentially be described as the component of an adult-child relationship relating to the child's safety and security.  It is the profound and enduring connection that a child forms–usually with their parent and/or primary caregiver.  A secure attachment develops from a consistent, reliable, responsive, and caring relationship.
It is within this secure attachment that young children first learn to trust others.  It also provides them with a safe place from which to explore and investigate the world.  Feeling secure and having a strong sense of belonging allow children the freedom to learn and grow. As they mature, it is important that the secure attachment with their parent/primary caregiver be nurtured and strengthened.    They still rely on us to be responsive and sensitive to their needs—to show affection, to model resiliency, and reinforce self-regulation skills.
Here's what we know from the Ottawa Infant and Early Childhood Mental Health Initiative:
https://www.ottawapublichealth.ca/en/professionals-and-partners/resources/Documents/iecmh/iecmh-attachment-en.pdf
Infants are hardwired to develop strong emotional connections or attachments to primary caregivers through face-to-face interactions and eye contact.
Babies need to feel safe, cared for, and protected. When a parent or caregiver responds consistently in a manner that is warm and sensitive, a secure attachment develops.
The parent or caregiver are the anchor from which young children can safely explore their world and develop to their full potential.
When secure attachment needs are met, children develop trust and gain the knowledge that they are loveable and important.
Children require a nurturing parent or caregiver to protect them from harm and the effects of toxic stress.
A secure attachment is foundational to positive developmental outcomes and future relationships with peers and partners.
Attachment can also be nurtured at child care–especially in a home child care environment where a child might spend several years with one caregiver.  Over time, and with a sensitive and responsive adult, a child learns to depend on their caregiver to meet their needs.  Trust is established, and they feel safe and cared for.  This can be particularly important if the child's attachment to their parent is not secure.  In her book Rest Play Grow, Deborah MacNamera states that "more than 60 years of attachment research has demonstrated that what every child needs is at least one strong, caring adult to attach to"(2016, 77).  She uses Gordon Neufeld's definition of attachment—"the drive or relationship characterized by the pursuit and preservation of proximity" to explain that attachment is the greatest need of a young child.  Instinctively, children ask "Who will take care of me?" (pursuit) and "How can I be close (physically and emotionally) to that person?" (preservation of proximity).
Neufeld's theory describes attachment as unfolding in six sequential phases whereby children seek to attach to others.  Each phase is deeper and more complex than the one before it and should "deliver a new form of pursuing someone and being able to hold them close" (MacNamera, 2016, 81).
As children move through the phases, they develop roots, strong and deep, essential for maturation.
Neufeld's Six Sequential Phases of Attachment—(MacNamera, 2016, 81-94)
Attaching through the Senses—At Birth—with close contact, sight, sound, smell, taste, and touch
Attaching through Sameness –Age 1+ —with imitation and mimicking, wanting to be "the same as"
Attaching through Belonging and Loyalty—Age 2+ —displaying possessiveness over people and things, staying close by following rules, enforcing rules with others, and taking sides.
Attaching through Significance—Age 3+ —needing to feel special, longing for approval, needing to be seen and heard, to matter
Attaching through Love—Age 4+ —with emotional intimacy, and vulnerability. Tenderness and caring emerge—frequent proclamations of love
Attaching through Being Known—Age 5+ —with the development of a separate consciousness, they actively seek a psychological intimacy—an inclination to reveal themselves—for example: the awareness that they could keep a secret but choose not too in order to be close —paving the way for truth telling, authenticity, and personal integrity
If you aren't familiar with Neufeld's "Attachment Roots", I highly recommend watching his webinar for a more thorough overview of these phases of attachment and how they relate to a child's behaviour.
We've touched a bit upon what attachment is and how children might move through the phases, but what about the why? Check out this pretty impressive list…
According to The Circle of Security Intervention (Powell, Cooper, Hoffman, & Marvin, 2016, 20), research has shown that children who are more securely attached:
Enjoy more happiness with their parents.
Feel less anger at their parents.
Get along better with friends.
Have stronger friendships.
Are able to solve problems with friends.
Have better relationships with brothers and sisters.
Have higher self-esteem.
Know that most problems will have an answer.
Trust that good things will come their way.
Trust the people the love.
Know how to be kind to those around them.
In contrast, when an adult's responses to a child's needs are repeatedly (over time) and regularly inconsistent and/or insensitive, the attachment is not secure.  This impacts the child's developing brain negatively and can result in profound difficulties with emotion regulation, cognitive development, activation of the stress response system, lifelong learning, and/or behaviour.
Developing a secure attachment starts with safety and connection.
"If children feel safe, they can take risks, ask questions, make mistakes, learn to trust, share their feelings, and grow."  ~Alfie Kohn
But what exactly does "feeling safe" mean?  The notion of safety is processed in the brain as a basic, instinctive, reaction to fear—used to protect us and ensure our survival.  It is this part of the brain that activates our fight/flight/freeze responses and triggers our stress response system.  We know and understand that this survival state can be triggered by a threat to our physical safety.  It can also be triggered by a threat to our psychological and/or emotional safety.  MacNamera comments that if "attachment is our most preeminent need; therefore, separation is perceived as the greatest threat and can activate a strong alarm response" (2016, 179).    She goes on to explain that facing separation can be overwhelming for young children and that the separation alarm is "rooted in the loss of contact and closeness" (2016, 180).  In other words, children don't feel safe when they experience the actual or anticipated threat of not being with, not belonging, not being liked, not mattering, not being loved, or not being known as they relate to their closest attachments—parent/caregiver/grandparent etc. (MacNamera, 2016, 180).
So, what can we do in the early years to encourage a secure attachment? Here are some key strategies provided by Infant Mental Health Promotion for both parents and caregivers (download the full handouts here– https://www.imhpromotion.ca/Resources/Hand-in-Hand-Resources):
Be engaged and engaging—cuddle, sing, talk, and play. Be available and interested.
Be sensitive—listen, follow cues, acknowledge likes/dislikes, preferences, and feelings. Provide choices and support when trying new things.
Be consistent—build routines that are predictable. Set limits, be consistent with rules. Be patient.
Be responsive—respond quickly, use touch, your voice, your eyes. Be a play partner.  Comfort and reassure.
Be enjoyable to be with—take the time, enjoy the moment, cherish, and take pride. Be emotionally available.  Keep your own emotions in check, ask for help if you need it.
Be the baby's/child's voice—be the advocate, give words, intervene as needed, offer support. Be close and model handling big emotions.
To learn more about attachment, attachment theory, and nurturing the connection, please take a look at the references and resources below.
"If we who are responsible for children can give a sense of belonging, a sense of significance; if we can hold onto the heart and make it safe, if we can give them a sense of being known…this creates the womb for maturation." ~Gordon Neufeld
Books:
Kohn, A. (2006). Unconditional Parenting. Atria Paperback.
MacNamera, D. (2016). Rest Play Grow Making Sense of Preschoolers. Aona Books.
Powell, B., Cooper G., Hoffman, K., & Marvin, B. (2016). The Circle of Security Intervention. The Guilford Press.
Online Resources:
Risky Play–Essential for Healthy Child Development
Written by Julie Bisnath, BSW, RSW
Risky play is exactly that—play that involves risk—usually the risk of physical injury.  It is exciting and exhilarating and thrilling and, well, risky.  It does, however, provide children with much needed opportunities to challenge themselves physically, emotionally, and mentally.  Risky play allows children to test the limits of their abilities, develop an awareness of risk, and feel in control of their actions. Plus it's FUN! How do I know? From observing the shrieks of joy, the belly laughs, the nervous giggles, and the huge smiles that come from feeling confident and capable.  Researched and developed by Norwegian professor Ellen Sandseter, risky play encompasses eight categories of risk, as perceived by a child 1.
Great Heights—climbing, jumping, balancing, etc. with a risk of falling
High Speed—uncontrolled speed and pace while running, biking, sledding, etc. with a risk of collision or injury
Dangerous Tools—knife, axe, saw, etc. with a risk of injury
Dangerous Elements—fire pits, cliffs, open bodies of water, etc. with a risk of falling or injury
Rough & Tumble—wrestling with other children, roughhousing, fencing with sticks, snow ball fights, etc. with a risk of injury
Unsupervised play—exploring alone with a risk of getting lost
Impact—crashing into things for fun with a risk of injury
Vicarious—the thrill of watching other (often older) children take risks
When provided with the time, space, support, encouragement, and appropriate level of supervision (risky play is not a free-for-all), children can actively pursue and enjoy this type of daring play.  Think back to your own childhood and hopefully you'll find memories of being outdoors, engaged in play fraught with risk and adventure.  I grew up in the city, but here's what I remember best— a farm, a wooded park, a junk yard, a creek's edge, an open field, and hours of fresh air and fun.  I played by myself, with my sister, with friends, and with random children I hadn't met before or didn't really know.  My mom would be close, but not too close—probably a good yell or two away.
Now I know that times have changed, and most parents prefer to keep a closer eye (myself included!) and I certainly am not advocating for caregivers to be "a yell or two away" but it is good to reflect upon and consider how we (parents and caregivers) might adapt our practices to include more elements of risky play.  We know from our own experiences that the benefits far outweigh the potential risks and we have the full support of many leading health and research organizations including the Children's Hospital of Eastern Ontario, Toronto's Sunnybrook Centre for Injury Prevention, and the Canadian Public Health Association—all of whom advocate and promote risky, unstructured play.
In a position statement supported by CHEO, risky play is explained as "giving children the freedom to decide how high to climb, to explore the woods, get dirty, play hide 'n seek, wander in their neighbourhoods, balance, tumble and rough-house, especially outdoors, so they can be active, build confidence, autonomy and resilience, develop skills, solve problems and learn their own limits."2
Why is risky play important?
Good things happen when children are encouraged and supported in risky play.  Driven by curiosity, they naturally want to explore and be adventurous.   When children are curious, they explore, ask questions, and make discoveries.  In doing so, they learn and grow in all areas of health, development, and well-being. Children engage in pro-social behaviour (communicating, negotiating, co-operating), improve executive functioning abilities (goal setting, attention span and focus, spatial working memory, judgement, planning, etc.), and learn how to keep themselves safe (understanding what feels safe, knowing the limits of their skills and abilities).
"When children experience the uncertainty of challenging or risky play, they can develop emotional reactions, physical capabilities and coping skills that expand their capacity to manage adversity. These skills are important for resilience and good mental health in childhood and into adolescence."3
Life is full of risks and uncertainty—if we want our children to grow into adolescents and adults who are capable of making good decisions and have sound judgement then we need to give them lots of opportunities to practice and develop these skills.   If we as adults constantly decide for them what is safe or unsafe how will they learn for themselves?  Risk assessment is a regular and ongoing element of adulthood—we routinely evaluate physical risk, emotional risk, financial risk, sexual risk, etc.—and we each define and measure risk differently.  What's risky for me might not be risky for you.  Knowing how to evaluate risk comes from practice.  Understanding your body, how it moves, and what feels safe comes from doing.  When we teach our youngest children about risk by providing them with appropriate opportunities to practice risk assessment and management skills, we are paving the road for our teenagers who will most certainly be challenged with a risky suggestion or two.  Learning and practicing how to assess risk according to your own abilities and comfort levels lends itself to being comfortable with setting limits and boundaries.  If children grow up learning to identify and express what feels safe, it will be much easier for them as young adults to say "No, I don't want to", or "No, I don't feel comfortable", or (and maybe most importantly) just "No".
"Children rehearse handling risky real-life situations through risky play; and they discover what is safe and what isn't."4
How to support risky play:
Risky play is adventurous play—and it can be tailored to children of all ages and abilities and to various levels of risk tolerance.
Caregivers and parents can work together to decide on how best to incorporate elements of risky play at home and at daycare.  Obviously, all existing health and safety regulations should be followed.
If you are away from home, assess the space and remove hazards (broken equipment, unsafe items—such as needles, broken glass, rusty or sharp metal).
Use common sense to provide age-appropriate and ability-appropriate time, space, and freedom for children to build skills and figure things out for themselves. Infants busy crawling might enjoy a variety of natural textures (grass, sand, mud, etc.) or low obstacles (small hill, cushions to crawl over, etc.) and obviously require constant supervision.  Risky play for a toddler might include balancing on large, low rocks or running freely in a large field.   Preschoolers might find it exciting to climb a tree or build with real wood, a hammer, and nails.  Older children may well enjoy the freedom to explore greater heights and speeds.
Do not push children beyond their comfort. Each child will be unique in their willingness and readiness to explore risk and that's ok. Follow their lead.
Outdoor play, in natural settings, in a variety of weather conditions, is essential. Think about tall grass, hills, mud, muck, large boulders, trees for climbing, logs for balancing, barns, etc.  Natural settings are perfect for mixed age groups because there is always something for every age and ability.  Even a large grassy field provides elements of risk.
When considering your yard, incorporate loose parts and materials—tires, tree stumps, burlap, rocks, logs, bricks, etc.
Provide guidance. Talk about danger. Talk about risk. Ask questions to prompt reflection. "How did that feel?" "What helped you decide?" "How will you…?"
In the absence of an immediate safety concern, count to 30 before inserting yourself to allow children to assess the situation first and try to problem solve independently.  It's amazing to see the creativity and ingenuity of young children–they truly are capable and competent learners.
Supervise but… get out of the way!  Watch carefully for potential safety concerns but also observe the pure joy and delight that the children are sure to experience.
"Access to active play in nature and outdoors—with its risks—is essential for healthy child development. We recommend increasing children's opportunities for self-directed play outdoors in all settings—at home, at school, in child care, the community and nature."5
References:
Other Resources:
The Value of Play
Written by Julie Bisnath, BSW, RSW
"We don't have time to play right now."
"Why are you playing with that?"
"There are more important things to do than play."
"You can't just play all day."
"It's not time to play."
"Stop playing and eat your dinner/pick up your toys/get ready for bed".
"We're too busy to play right now."
Sound familiar? Sometimes as parents, we forget exactly how important play is to children—how essential it is to their growing brains and bodies.  We forget that play is how children learn and develop.  As Fred Rogers explains "Play is often talked about as if it were a relief from serious learning.  But for children, play is serious learning.  Play is really the work of childhood."1 Who better than Mr. Rogers to sum it up so accurately?
If you're in the field of early childhood education, play-based learning is familiar jargon and you're probably pretty comfortable with the concept.  If you're not (and don't worry most parents aren't), I'd like to provide a little overview to help answer a question I've heard a lot—"What is my child doing all day besides playing?".
Here is one of my favourite definitions: "Play-based learning provides opportunities for children to develop a sense of the world around them through inquiry, exploration, interaction, and problem solving."2  Through play, children are naturally learning what they need to know.   Play-based learning is embedded in Ontario's early learning pedagogy How Does Learning Happen? and is used to further children's learning in all areas of our provincial kindergarten program.3
Play-based learning consists of two types of play:
Free play is voluntary, unstructured, intrinsically motivated, and initiated by the child.  It is the spontaneous, joyous play that arises from a child's natural wonder and curiosity.  Examples include play with open-ended toys and loose parts (i.e. blocks, dress up), outdoor play in nature, process art experiences, sensory play, etc.
When child care providers build in "free play" as a significant part of the daily routine they are giving children the gift of time and space to learn through play.  The children have the freedom to explore, develop, and control the play as it unfolds naturally.
Guided play has more specific learning goals and can be led by the child or the adult.  The adult helps to extend the learning goals naturally associated with the play by asking open-ended questions, prompting problem-solving, and engaging with the child in their play.
Learning through play is successful because it is based largely on the child's interests and appeals to their fun-loving nature.  It allows children to learn and practice skills in all areas of development:
Cognitive—Play builds executive function skills such as planning, problem solving, task initiation, and flexible thinking.
Emotional—Play supports emotional competency and regulation. It builds resilience.
Social—Play provides opportunities to work together, to share, negotiate, and compromise. Children begin to learn about social cues and conflict resolution.
Communication—Play encourages the development of expressive and receptive language, enhances vocabulary, and teaches self-advocacy and assertiveness skills.
Physical—Play promotes the development of strength, muscle control, coordination, and reflexes. Children also learn about movement, body awareness, and risk assessment.
When children are actively engaged in play they are developing the skills they will need for later academic and life success. In her book PLAY, author Lisa Murphy describes it like this: "Play is not separate from learning.  Play is the cement holding our foundation together and it is this foundation that will, in turn, support the house of higher learning.  It facilitates social and emotional skill development as well as the linking of concepts to experiences in order to assist children as they begin making sense of their world.  It is this linking towards which we are ultimately working."4
Through play, children are able to express their ideas, explore who they are, test out emerging theories, engage their creativity, and practice essential skills.   In a time when children are trying to understand the pandemic and its implications relative to their lives—processing what they see and hear in their community, at child care, and at home—it is important to take a minute to acknowledge and appreciate the importance of play.
"Play gives children a chance to practice what they are learning…They have to play with what they know to be true in order to find out more, and then they can use what they learn in new forms of play."5  ~Mr. Rogers
When you ask your child "What did you do today?" and they answer "Play!" be assured that they have been working hard and that your home child care provider is facilitating and supporting serious learning and growth.
COVID-19: Information and Ideas to Share
Written by Julie Bisnath, BSW, RSW