Loose Parts Play
Written by Julie Bisnath, BSW RSW
Coined in the early 1970's by Simon Nicholson, the concept of "loose parts" came from his belief that the use of open-ended materials in childhood was strongly linked to creativity and critical thinking skills later in life.  It has since become a central component of many early learning environments and you can find lots of research and information pointing out that loose parts play does indeed develop skills across the entire continuum of development.
"Children need opportunities to be creative and inventive in their environment, manipulating and constructing their ideas through play. This result can be achieved through the introduction of unstructured play with loose parts."  https://www.cpha.ca/loose-parts-policy
Essentially, loose parts are any open-ended bits and pieces that have no intended purpose or specific play goals.   They can be moved around, added to, organized, taken apart, and used in many different ways allowing children to be creative, to explore, to investigate, and to learn from their own experiences manipulating the pieces.  Basically, any collection of natural or man-made materials can be thought of as "loose parts".
www.loosepartsplay.co.uk
Natural environments automatically provide a rich assortment of loose parts.  Think about the ocean side with water, sand, shells, and rocks or a lush forest bed filled with sticks, stones, leaves, dirt, pinecones, moss, and bits of bark.   The opportunities for play and learning are endless.  Children are invited and encouraged to use their imagination (the stick is a wand!), to develop analytical skills (which pinecones are sturdy enough to support a bit of weight?), and to test out their own ideas and hypotheses (small rocks float and big rocks sink).  They use the materials in new and inventive ways.  With no right or wrong way to play, children enjoy the freedom to explore and create without the typical constraints of store bought toys meant to do one or two specific things.  Loose parts play also fosters self-confidence and builds resilience as children are free to re-use the materials and experiment with a variety of ideas.   It gives them the opportunity to try and try again.
www.natureconnect.ca
"Loose parts pave the way for critical thinking. It allows the children to have their own ideas, to make things the way they decide, and to figure out for themselves how to make their idea work." http://www.thewideschool.com/the-theory-of-loose-parts .
No need to take a day trip though (although how wonderful to spend the day lakeside or in the woods!)—you can incorporate loose parts play right in your own backyard or indoor play space.
A simple way to get started is to use what you already have at home: blocks, large pompoms or cotton balls, large popsicle sticks, balls, and recycled paper towel rolls set out on the floor are perfect for toddlers.  Older preschoolers might enjoy a variety of smaller loose parts added in: clothes pins, gems, shells, rocks, pinecones, and spoons.  A sensory bin filled with miscellaneous materials sets out an intriguing invitation.   Another option is to try table top loose parts—have the children sit at the table each with their own tray or shallow box of loose parts to examine and explore.  This works well with a mixed age group as you can tailor the items specifically to each child, following their interests and abilities to manipulate the loose parts safely.  This set up is also helpful if you are trying to minimize having the children touch or share common items.   Perhaps you have kindergarten or school age children who would enjoy some gross motor, outdoor, loose parts play?  Scavenge your basement, the garage, or ask your local hardware store for discarded materials: old tires, broken bricks, bits of lumber, large industrial rolls (sturdy cardboard inside large bolts of plastic or fabric), recycled yogurt containers, milk crates, and rope make a good start.  Recycled materials (containers, cardboard boxes, plastic bottle caps, etc.) are free and also helpful when it comes to clean up—no need to wash or disinfect, when the children are done playing out into the bin they go.  Dollar shops and thrift stores are another great place to look for loose parts—think about wooden napkin rings, bits of hardware, craft supplies, bins, baskets, etc.  Know someone who likes to sew? Ask them to set aside the empty spools.  Friendly with a local merchant? Ask them to keep the inside plastic piece from the cash register paper rolls.  Going out for a walk? Bring along a bag to collect pinecones, rocks, sticks, leaves, etc.
https://www.pinterest.ca/pin/224265256432558622/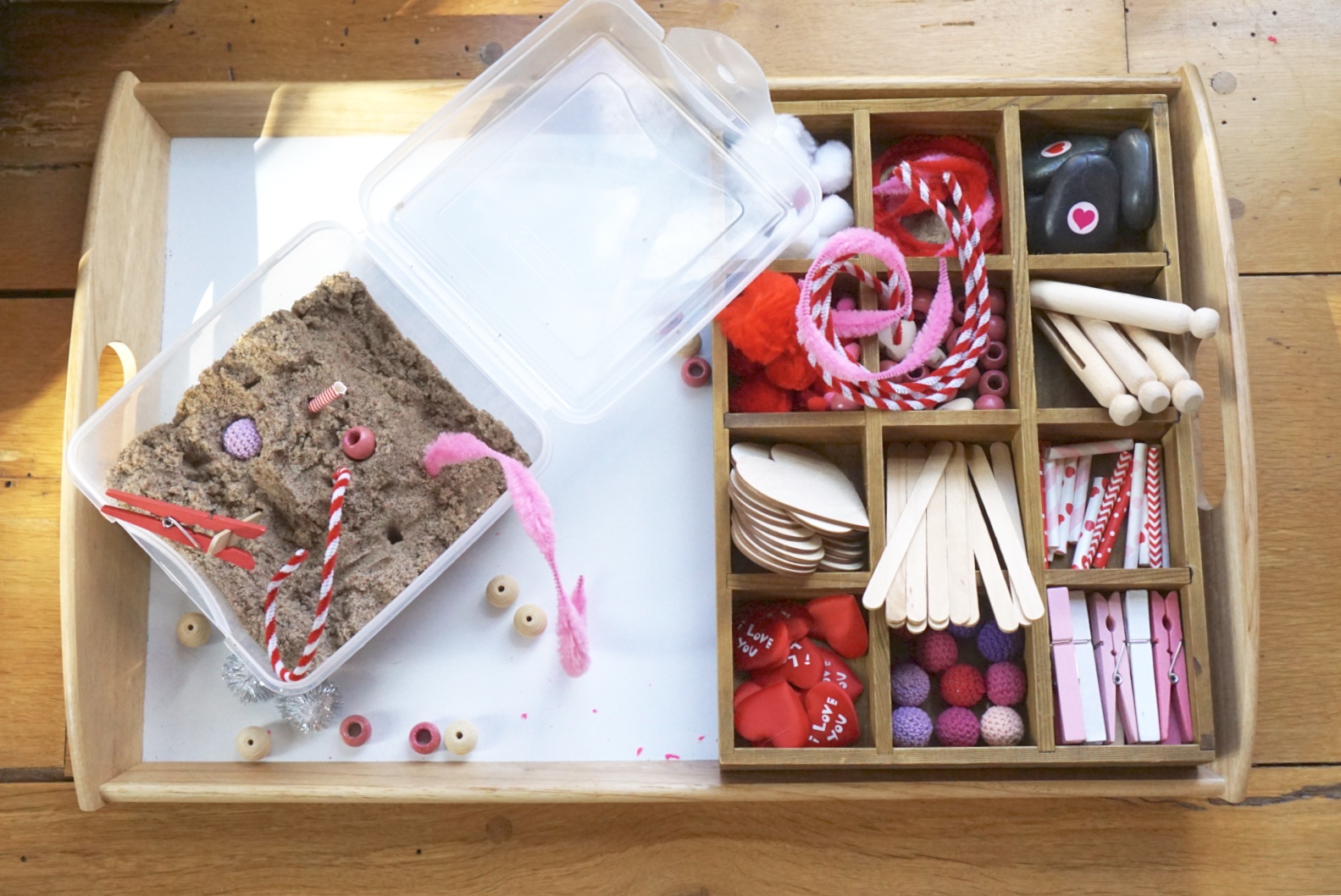 https://www.ureadyteddy.com/toddler-tinker-trays/
Just as there is no right or wrong way to play, there is no right or wrong way to offer or set out loose parts.  Through trial and error, you'll discover what works for your space, and what works for your children.  Follow their lead and enjoy the limitless potential of loose parts play.
Interested in buying a ready-made loose parts collection? We have 2 left for sale–head on over to the e-store for a closer look!
As always, children need to be closely supervised when playing with loose parts.  Be sure to select items that are age appropriate and suitable to the child's skills and abilities.
A sample list of bits and bobbles from: Loose Parts Play
Stones, rocks · Tree stumps · Logs · Pebbles · Gravel · Twigs · Sticks · Washers · Planks of wood · Coconut shells · Corks · Ping pong balls · Pegs · Bulldog clips · Duct tape · Straws · Marbles · Decorative stones · Spoons · Curtain rings · Paperclips · key rings · chains · tape measures · Pallets · Balls · Buckets · Baskets · Crates · Boxes · Rope · Tyres · Shells · Seeds & seed pods · Pine cones · Old CDs or DCDs · Ribbon, string tape wool, lace · Metal tops from bottles & Jars · Cardboard cylinders · Raffia · Cable reels · Feathers · Pasta · Costume jewellery · Pots · containers · Glass beads · Cable ties · Guttering & drainpipes · Garden trugs · Tarpaulin · Nuts & bolts · Bark & moss · Leaves · Coins · Old bike wheels · Small slices of logs · Empty food cans (not sharp) · Netting · Garden canes · Dried peas, beans, rice · Wood off cuts · Torches · Cameras · Dice · Gourds · keys